sunflower oil production line
We are the best supplier in sunflower oil production business for the customer all over the world. KMEC sunflower oil production line consists of sunflower seeds preparation machine, sunflower oil extraction machine and sunflower oil refinery machine. We have built more than 400 edible oil lines for the sunflower oil plant owner worldwide. We are the best sunflower oil production line provider.
Related Project: 10 ton/d Sunflower Oil Production Line Setup in Uganda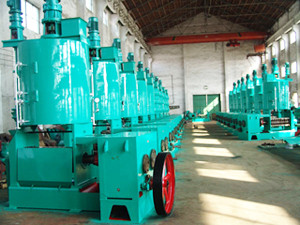 Steps of Working Process
1. Stir-firing the seed
2. Feed in the oil seed
3. Pressing the seed in the pressing chest
4. Oil drip on the oil pan from the squeezing bolt
5. Then oil inflow the vacuum oil filter pan by the vacuum system
6. Then pure oil comes out of the filter
Features of Sunflower Oil Production Line
1. It is easy for people to operate because of convenient operation panel
2. It costs less various expenses with lower electricity consumption in use
4. This machine adopts automatic control system, automatic preheating control and pressure control of hydraulic system
5. This machine, adopted imported high quality stainless steel material for the sunflower oil production line
Advantage of Sunflower Oil Production Line
1. Saving labor: only one or two person is able to make production
2. Widely-used: the oil production line can be used for pressing sunflower seed oil and more than 20 kinds of oil crops
3. Pure oil quality: the vacuum oil filtering is used to remove residue so as to ensure the pure oil quality and meet the standard of health quarantine
4. Small land-using: an area of 10-20 square meters workshop can meet the need of production
5. High-end sunlfower oil refining process is applied for the line to raise the output.

Contact us to get more info on our sunflower oil production line and if you order today you can get a discount and double you sunflower oil output. Do it now.