small oil refinery plant
Oil refinery plant including a series of refining processes which are aim to remove phospholipids, FFA, pigment, gums, waxes, off-flavor and other impurities from the oil. To impart uniform color by removal of coloring pigments and to get rid of unpleasant smell from the oil by removal of odiferous matter. However, small oil refinery plant has the same purpose. It is suitable for smaller capacity of various vegetable oil refining.
Small Oil Refinery Plant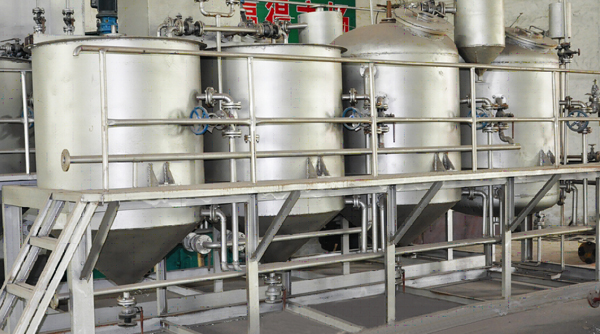 Feature & Advantage of Our Small Oil Refinery Plant
Can Change Different Kinds of Oil Easily
Full Function but needs less space.
Easy to Operate
Easy to Transport& Install
Light Weight and Movable
Small Oil Refinery Plant Flow Chart

Equipments included in the Small Oil Refinery Plant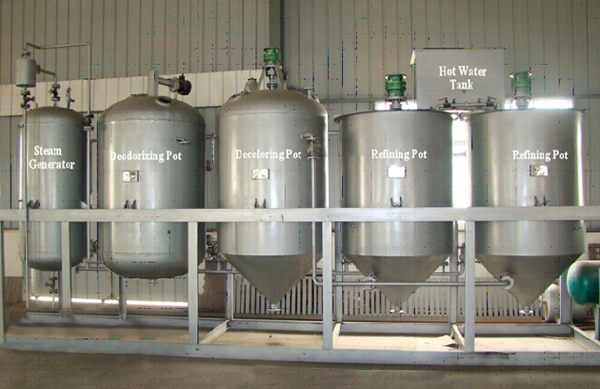 Heat Conduction Furnace 1 set Offer enough thermo for the refining sections.
Steam Generator: 1 set Produce steam for the workshop
Refining Pot: 2 sets Remove the gum, phosphoric acid etc,
Decolorizing Pot: 1 set Remove the color from neutralized oil
Deodorizing Pot: 1 set Remove the solvent, smell, water from decolorized oil
Other Auxiliary Equipments: Hot water Tank, Bleaching earth Tank, Air compressor,
pumps, filters, Valves, Electricity Control Cabinet, etc.
Note: We accept enquiries in English, Español (Spanish), Русский язык (Russian), Français (French) and العربية (Arabic). Our professional team will reply to you within one business day. Please feel free to contact us to get more info about our small oil refinery plant!