soybean extruder
We are a professional oil mill machinery manufacturer and supplier in China, we supply qality oil press, soybean extruder, filter press and other oil processing machinery. Our soybean extruder consists of a driving system, a feeding device, an extruding device, an electric control cabinet etc. Soybean extruder had the honor to win the National New Product Certificate granted by the State Science and Technology Commission, and is a patent product with a patent No. ZL90224391.8 of our works.
Soybean Extruder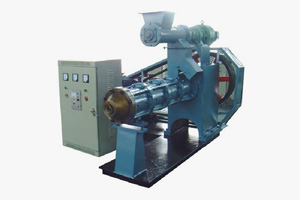 The soybean extruder is the main technological equipment for rice bran stabilizing treatment and bean extruding in cereal and oil industry, and also can be used to manufacture different expanded feeds in oil mills, rice mills, soybean protein factories and feed mills.All of the soybean extruders are matched Chinese Standard electricity situation:380 Volts, 50Hz, 3 phases. If clients have particular electricity requirements about the extruders, clients should pay extra expense of electricity special require.
Working Principle Of the Soybean Extruder
This machine can transfer mechanical energy to thermal energy by extrusion, friction and shearing function of non-equidistance screw extrusion system, and form a certain pressure and temperature in the extruding chamber, so material is sprayed out from the discharging die head to be expanded and formed.
Specifications of the Soybean Extruder
| | | | | | |
| --- | --- | --- | --- | --- | --- |
| Mode | Screw Dimension | Rotate Speed | Power(Main Motor) | Power(Feeder Motor) | Capacity |
| XP-100 | ¢135 | 630rpm | 22kw | 1.5kw | 250~380kg/h |
| TXP-160 | ¢155 | 600rpm | 55kw | 2.2kw | 16~24t/day |
| TXP-165 | ¢205 | 500rpm | 75kw | 2.2kw | 25~36t/day |
If you are interested in our soybean extruder, please contat us in the following form and you will never regret doing so.