Ginger Oil Extraction Machine
We are offering international quality standard
Ginger Oil Extraction Machine
for oil mills. High end technology and premium raw materials are used in manufacturing high performance and durable
Ginger Oil Extraction Machine
for
solvent extraction plant
. Understanding that ginger oil extraction machine is a delicate task, we design excellent range of seed oil extraction machine and Ginger Oil Refinery Machines as you required.
Main Features of Ginger Oil Extraction Machine
Labor-saving:it can save 80% labors for the same output and 60% labors cost per day for one people is able to meet production.
Widely-used:it can be used to comletely extract more than 20kinds of oil corps beside ginger,such as peanuts, sesame, soybean, sunflower and fla
Pure oil quality:the vacuum oil filtering is used to remove residue so as to ensure the pure oil and meet the standard of health quarantine.
Small space needed:an area of 10-20 square meters workshop can meet the need of production.
Advanced design,reliable perforence ,simple operation and convenient maintenance.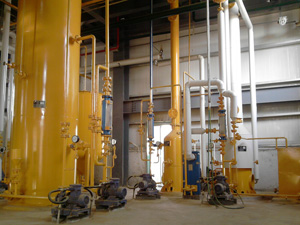 Process of Ginger Oil Extraction


Steam distillation is the preferred method for ginger oils production in large quantity. Direct steam distillation by using our Ginger Oil Extraction Machine is the most efficient method. In this method instead of making the steam in the kettle it is prepared in a boiler and then passed through the bed of ginger at a certain pressure. The steam extracts most of the essential oil and hence, this method is most economical and quick. Read more about cost of settin up edibel oil plant >>
First of all, ginger is cut into smaller pieces with the help of our ginger falking machine. Usually this cutting operation is carried out manually while our machines can do it automatically. After cutting of ginger, pieces are beat with the help of KMEC hammer machine to break the oil cells. These pieces of ginger are fed on a wire gauge, which is fixed in a mild steel kettle. After preparing the bed, the outlet of the kettle is connected to a water cooler and the outlet of the condenser is connected to the collecting pot.
The steam at is passed into the kettle from the bottom. The steam passed through the pores of the ginger bed and extracts the volatile oil with it. This extractor is carried out until hole of the volatile oil is extracted. The vapor of water and oil condenses in the condenser and falls into the collection pot. These pots are generally made of glass. In the pot, two layers are formed after the condensed vapors are settled. Water layer remains on lower side while oily layer floats on the water. Oil is separated from tin pot. Thus oil obtained by this method contains about 5 to 6% water.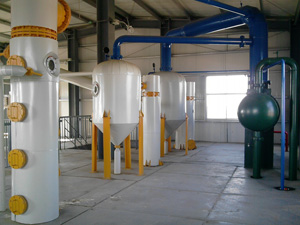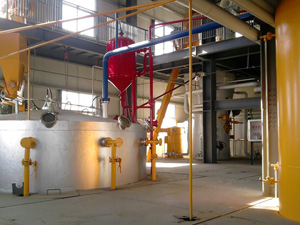 For separating the ginger oil, oil water mixture is subjected to reduce pressure distillation. Crude ginger oil is taken in a flask like kettle and some arrangement are made as stated above for distillation process. A vacuum pump is connected in series in order to create vacuum. The flask is heated and pump is switched on when the required temperature is reached, the vapors of oil start coming out and these vapors are collected in a pot by condensing them in a condenser.Ginger oil is gethered in oil tank.
Contact us today if you fond of in ginger oil extraction machines and service!