seed oil processing machinery
KMEC is an expert in the
seed oil processing machinery
. We are a highly advanced company that devotes ourselves to development of both small and large oil pressing company .We are located in the new High Technology Industrialization Zone in Henan , China , which is superior in its geographical location and is convenient for the transportation. Our company has built our own R&D center and maintains relationships with many other R&D units and higher institutes. After years of development, we have formed a comprehensive business pattern for project-design, new-product research, machinery manufacturing, installation and debugging, technical training and after-sales service.
The process of seed oil processing
The following process description discusses is mainly about soybean oil manufacture, because emission factors are available only for that activity. Corn, cottonseed, and peanut oil processing are similar to soybean processing, except for differences in the soybean preparation for oil extraction. The process for soybeans typically consists of five steps: oilseed handling/elevator operations, preparation of soybeans for solvent extraction, solvent extraction and oil desolventizing, flake desolventizing, and oil refining.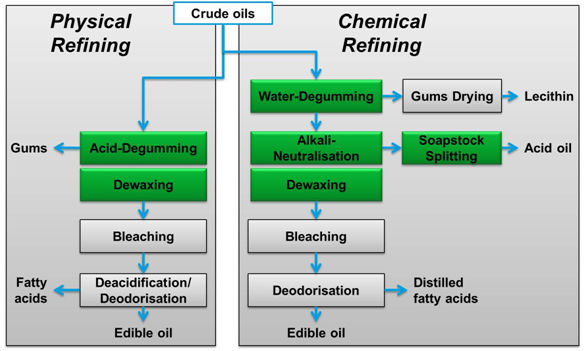 Chemical and Physical Refining of Crude Edible Oil
Neutralisation of crude oil
This method has become established mainly in the USA for refining soybean oil, the so called long mix process. The process is a combination of degumming and neutralization. For the conditioning of the non-hydratable phosphatides, a small quantity of phosphoric or citric acid is added to the crude non-degummed oil. In some cases, the acid is added in the feed tank with an agitator upstream of the installation; several hours reaction time must be taken into consideration. However, a more effective method is to add the acid upstream of a centrifugal mixer. The intensive mixing enables the reaction time to be reduced to a few minutes. Diluted caustic soda with a concentration between 7 and 12% is then added in order to neutralize the free fatty acids. It is necessary to ensure that adequate water is present with the caustic in order to hydrate the phosphatides

Crude oil neutralisation.
Following a reaction time of several minutes in special retention mixers, the oil is heated and sent directly to the first separator in order to separate the soapstock. The neutral oil is washed in order to further reduce the residual soap content. For this purpose, approx. 3 – 10% of hot water is added to the oil, mixed in a dynamic mixer and separated into wash water and oil in a separator. The residual humidity of the oil is further reduced in a vacuum drier.
You are welcomed to send email to get support from us! We are always ready to serve you!