Oil Refinery Process
We are offering international quality standard
Oil Refinery Process
Machinery and the relative method for oil mills. High end technology and premium raw materials are used in fabricating high performance and durable Oil Refinery Process Machines for customers. With realizing that palm oil processing is a delicate task, we design excellent range of
oil refinery process plant
and the relative machines for the customers all over the world.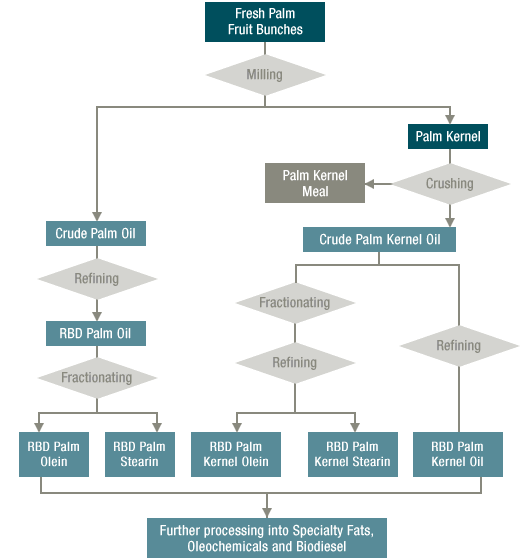 Introduction of Edible Palm Oil Refinery Process
To produce refined oil, crude palm oil and crude palm kernel oil is processed through three refining stages, namely degumming, bleaching and deodorising. In degumming, the gum and fatty acid in crude palm oil and crude palm kernel oil are separated together with other impurities such as trace minerals, copper and iron by the application of phosphoric acid.
In bleaching, the oil is mixed with bleaching earth (bentonite calcium) in a vacuum room to remove impurities and colour pigments in the palm oil. In deodorising, the odour and taste of the oil is removed when the oil is steamed at high temperatures between 240°C to 260°C and then cooled to room temperature.
RBD palm stearin and RBD palm olein are obtained by the fractionation of RBD palm oil; whereas RBD palm kernel stearin and RBD palm kernel olein are obtained by the fractionation of RBD palm kernel oil. Through a process known as crystallisation, RBD oil is cooled until crystals are formed.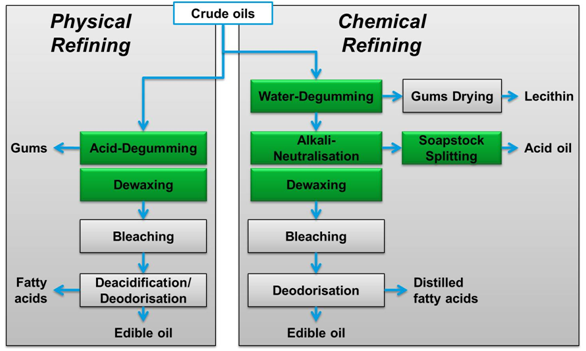 The crystallized oil in the crystallizer is then filtered through a membrane to separate the liquid fraction i.e. olein from the solid fraction i.e. stearin. RBD palm olein is usually sold as cooking oil and may go through further fractionation depending on the quality required.
These processes are used either individually or in combination to produce suitable palm oil for various applications.
If you are interest in our Oil Refinery Process or you want to set up an oil milling plant , please don't hesitate to write to us from the following form, we are always at your service!